Back in May 2022, Kenneth Lofton Jr. was one of 44 draft-eligible players invited to the G League Elite Camp, an annual showcase held in Chicago. Despite averaging a double-double as a sophomore at Louisiana Tech (16.5 points, 10.5 rebounds), he wasn't considered a top prospect. He hadn't yet signed with an agent, leaving the door open for a return to the Bulldogs. But since that camp, his stock has only risen. And risen. And risen.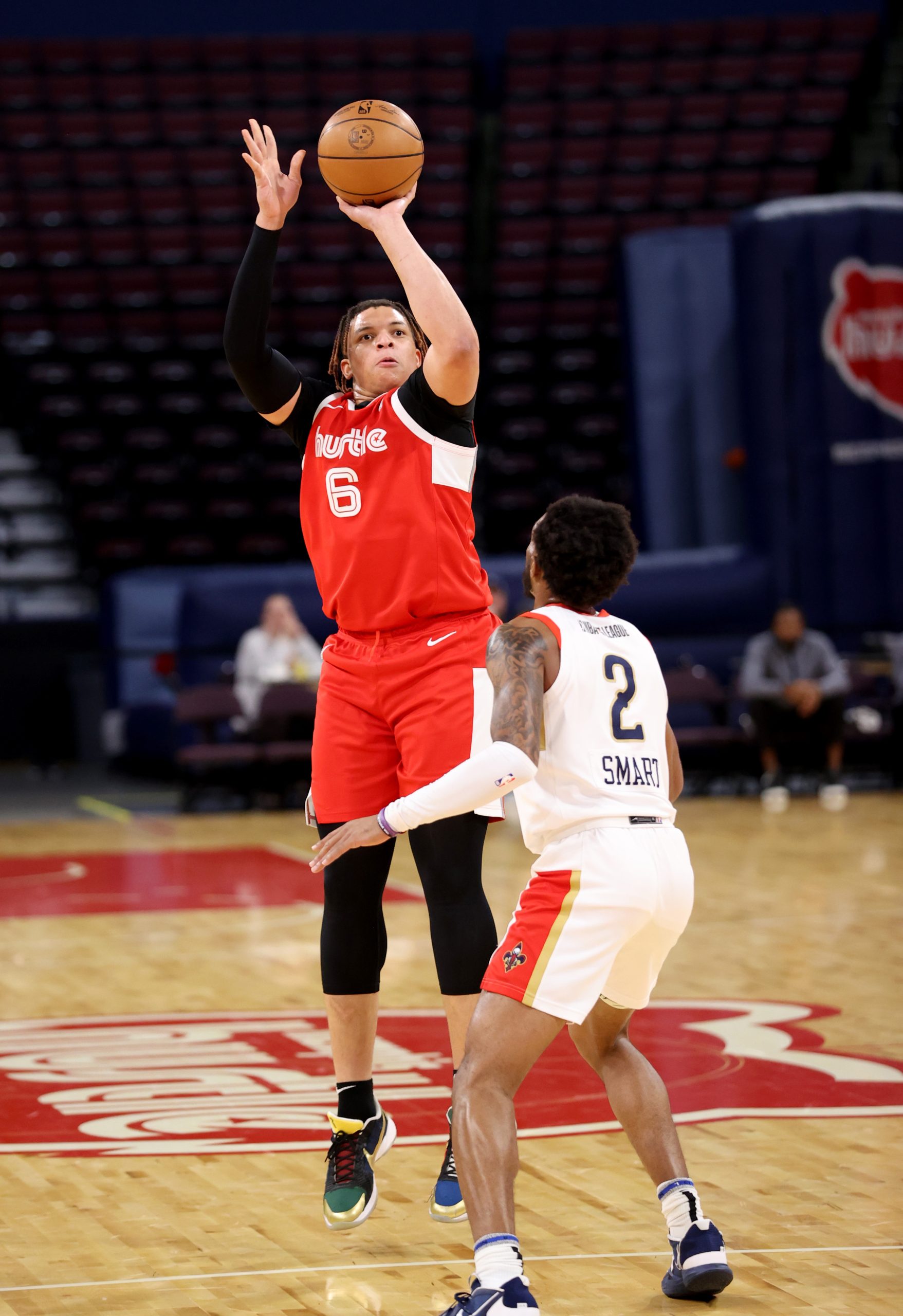 Based on his performance over the three-day event, Lofton Jr. earned a late invitation to the NBA Draft Combine. On May 23, just after the Combine ended, he announced his decision to remain in the 2022 Draft. "See y'all June 23," he wrote on Twitter. "100% staying in the draft!" Though he wasn't selected, the 20-year-old eventually signed a two-way contract with the Memphis Grizzlies and continued shining at NBA Summer League in July, posting 14.9 points and 6.4 rebounds per game.
At 6-6, 275 pounds, Lofton Jr. is built more like an NFL tight end than an NBA forward. His strong frame, "bully ball" style and smooth lefty jumper immediately reminded Grizzlies fans of Zach Randolph. The hype surrounding him grew even more during a matchup with No. 2 pick Chet Holmgren, in which Lofton Jr. overpowered the 7-1 Gonzaga star down low, notching 19 points and 6 boards.
A point guard in high school before sprouting from 6-2 to 6-6 and moving to the frontcourt at Louisiana Tech, Lofton Jr.'s game reflects just that—he is as comfortable handling the ball up top as he is operating on the post, where he makes up for a lack of height with sheer muscle and excellent footwork. Asked about the development of his unique skill set at Grizzlies media day, Lofton Jr. said, "I just knew post moves. I just added everything I had and put it in one bag and used it."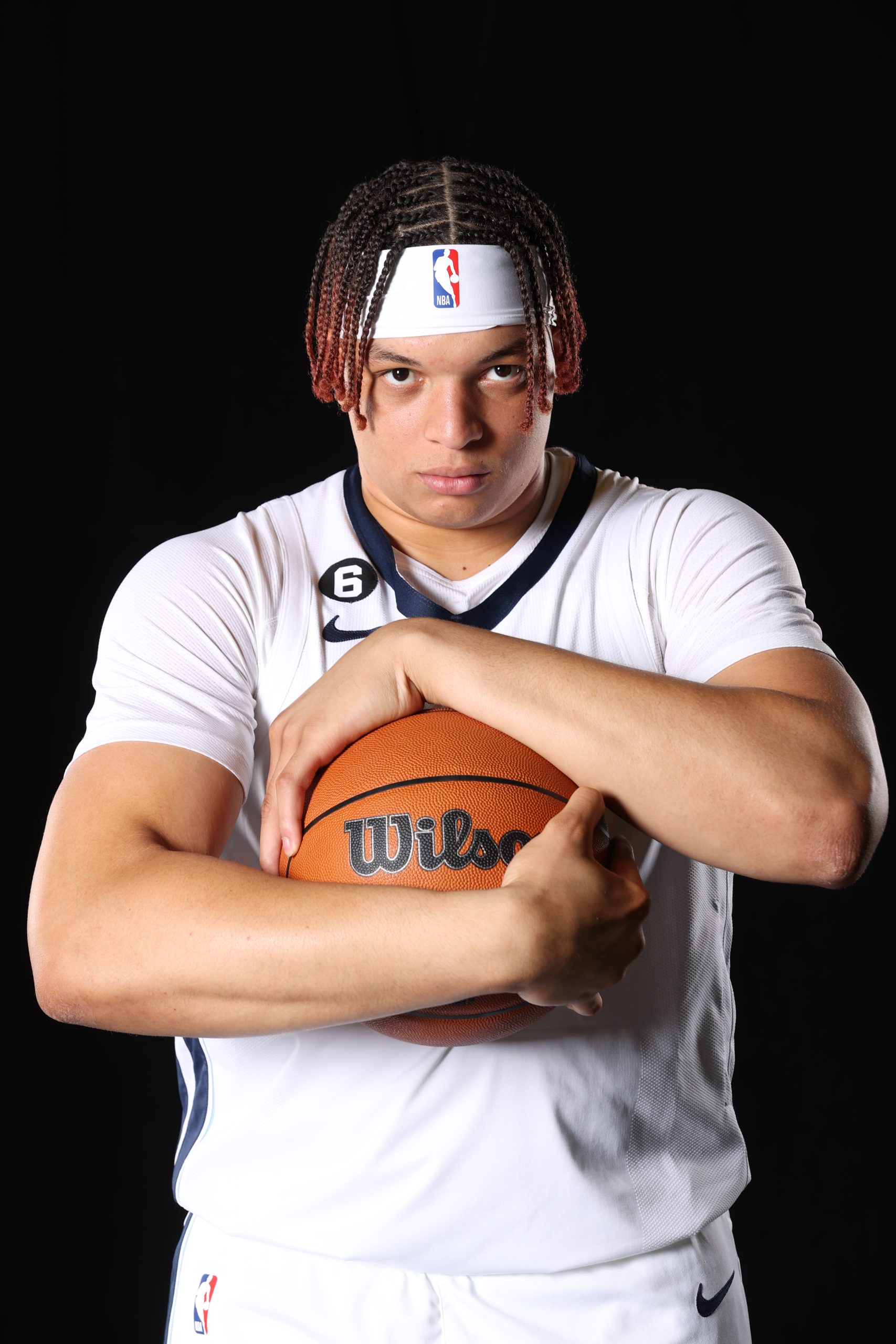 That bag includes a soft touch in the paint, a crafty spin move and an impressive passing ability. And now, with the Memphis Hustle, the Grizzlies' G League affiliate, he's adding to his arsenal. After taking just 20 total threes in college, the rookie is currently averaging over 4 attempts per contest. He shot 50 percent from the field and 36 percent from behind the arc in December, averaging 21.2 points, 8.9 rebounds and 3.2 assists to lead his team to a 7-2 record.
Memphis went 2-0 at the recent AT&T Winter Showcase in Las Vegas, the event that every G Leaguer has circled on their calendar. Playing in front of scouts and executives from all 30 NBA organizations, Lofton Jr. was dominant. He showed his expanded range, knocking down 5 three-pointers and overwhelming weaker defenders inside. He was unstoppable driving to his left, using his body to keep shot blockers away and finishing through contact at the rim. In the two most important games of the season so far, he averaged 27 points, 11.5 rebounds and 5 assists. He was named to the All-Winter Showcase Team along with Brandon Boston Jr., Tre Mann, Isaiah Mobley and Terry Taylor.
Of course, Lofton Jr. still has a lot to improve—reducing his turnovers, upping his efficiency from deep, playing defense without fouling. But since the Elite Camp seven months ago, when he wasn't even set on turning pro, the big man has already taken significant steps toward becoming a real contributor at the NBA level.
HONORABLE MENTIONS
Mason Jones, Forward, Mexico City Capitanes: 24.9 points, 5.9 rebounds, 6.9 assists, 1.3 steals, 63 FG%, 49 3P%
Isaiah Mobley, Forward, Cleveland Charge: 25.8 points, 9.0 rebounds, 5.5 assists, 1.5 blocks, 65 FG%, 57 3P%
Mamadi Diakite, Forward, Cleveland Charge: 24 points, 9.5 rebounds, 1.7 blocks, 53 FG%
Orlando Robinson, Forward, Sioux Falls Skyforce: 25.5 points, 15.8 rebounds, 3.5 assists, 1.5 blocks, 62 FG%
Vernon Carey Jr., Forward, Capital City Go-Go: 25.2 points, 9.1 rebounds, 1.4 blocks, 59 FG%
Carlik Jones, Guard, Windy City Bulls: 23 points, 5.0 rebounds, 6.3 assists, 52 FG%, 37 3P%
Brandon Boston Jr., Guard, Ontario Clippers: 23.6 points, 6.0 rebounds, 49 FG% (Winter Showcase MVP)
Brandon Williams, Guard, College Park Skyhawks: 23.4 points, 4 rebounds, 4.3 assists, 1.6 steals, 52 FG%, 49 3P%
Tyler Dorsey, Guard, Texas Legends: 27.3 points, 4.0 rebounds, 3.2 assists, 51 FG%, 47 3P%
DECEMBER CALL-UP TRACKER
Louis King, Forward, Rio Grande Valley Vipers to Philadelphia 76ers
AJ Lawson, Forward, College Park Skyhawks to Dallas Mavericks
Jared Rhoden, Guard, College Park Skyhawks to Detroit Pistons
Carlik Jones, Guard, Windy City Bulls to Chicago Bulls
Stanley Johnson, Guard, Sioux Falls Skyforce to San Antonio Spurs
Orlando Robinson, Forward, Sioux Falls Skyforce to Miami Heat
---
Photos via Getty Images.
The post NBA G League Player To Watch (December Edition): Kenneth Lofton Jr. appeared first on SLAM.
from SLAM https://ift.tt/wBNxapy
via
IFTTT